DVD review: Freaks and Geeks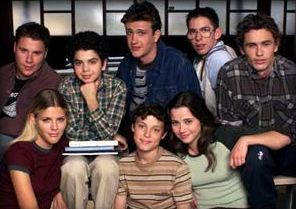 (Note: I kinda wrote this on Friday, but my Firefox browser crashed, which happens every time I try to write more than 500 words in the browser instead of Word. Que sara sara. So this new post is less arty and more descriptive of what I like about the show.)Nostalgia for the belle epoque of Jimmy Carter has been with us ever since 1980 or so, but I think it was put on steroids with the 1994 release of Richard Linklater's "Dazed and Confused." The Texan director's second movie, after the slice-of-life comedy "Slacker," sent us into a high school on the first day of summer vacation in 1976. It was obviously compared to "American Graffitti," but critics noticed that this movie was as cynical as George Lucas's 50s movie was starry-eyed. The key line, spoken by half-assed rebel Jeremy London as he tries to avoid signing a drug-free pledge for the football team, was "If these are the best years of our lives, remind me to kill myself."
Importantly, this was a new kind of nostalgia movie that said except for the music, life was no better when we were teenagers. More importantly, the movie totally bombed. So it became the template for Paul Feig's series "Freaks and Greeks."
Feig, an actor and writer of middling success, has not said a lot about whether "Dazed and Confused" inspired his shaping of this show, but the resemblence is close enough to make the leap – and the same stuff that made "Dazed and Confused" work is at work in his show. D&C was set 18 years before the movie came out, and F&G begins in the fall of 1980, 19 years before the show premiered. The setting is recognizable, and the interactions of the characters wouldn't change that much if it were set a decade later, apart from the social mores. But their awkward relationships and aptitude for learning things the hard way could play out the same in a show set in 2004.
The protagonists are a high school junior, Lindsay Weir (Linda Cardellini) and her family, brother Sam (John Daley) and parents Harold (Joe Flaherty) and Jean (Becky Ann Baker). When we meet her, Lindsay is a smart kid who's bored and deciding to rebel. We can tell this is a conscious decision because she's bad at it – when the bad kids go out trashing houses on Halloween, she kicks a pumpkin too hard and gets her shoe stuck in it. This was a terrific and telling (and possibly unintentional) metaphor for the very identifiable Lindsay character. She's got a feeling that the Mathlete crowd is dragging her down, and she's cute enough to break in to the semi-popular crowd.
But like in "Dazed and Confused," being in the semi-popular crowd (and even the popular crowd) is not an unalloyed boon. The life of a geek, as obviously tortuous as it is for the characters, seems pretty fun. Sam and his friends Neil (Samm Levine) and Bill (Martin Starr) goof around quoting Bill Murray and Steve Martin and not worrying about AIDS and fake IDs. When Sam actually gets a chance to date his dream girl, her shallowness and meanness drives him nuts. Still, "Freaks and Geeks" never allows a lesson to go unchallenged. One early episode has a pretty new girl start at the geeks' high school, and Sam, Neil and Bill manage to charm her into hanging out with them. They're convinced having a pretty girl in their circle is against the laws of nature, so after a few 007esque attempts to keep her from joining the in crowd, they set her free – and when she still sort of wants to hang out with them, they've so bought into their social rulebook that they don't even notice.
The freaks – Lindsay's new friends – are in some ways a little more enviable, and in some ways a lot less. They're not very smart. Ken (Seth Rogen) is witty but lazy, Nick (Jason Segal) is a flake who got kicked off the basketball team for stashing pot, and Kim (Busy Phillips) is a bitchy bully. Then there's Daniel Desario (James Franco). In any other show, the badass rebel would be Lindsay's off-on love interest the Ross to her Rachel, the Niles to her Daphne, etc etc. Problem is, Daniel is not a sitcom rebel. He's drawn to be real – he's not bright, he's dishonest, and he manipulates all the girls who fall for his charm. This isn't presented in a malicious way. It's just the way Daniel is, and Lindsay eventually realizes what she's letting herself get into by humoring him.
It's never enough to say a show's "realistic" and praise it to high heaven. But the pathetic realism of "Freaks and Geeks" is the undergirdings of a funny, warm show about high school, and how if it's the best years of your life you should kill yourself.
Coming next … episode-by-episode.